Striper Wars
Eye of the Whale
The Man who Knew Too Much
Black Genius
Jesse Ventura
James Hillman
3/17/2017
"URBAN ROMULUS" BY ROMEO KEYES
The following article, "Urban Romulus: How the Myths Have Shaped My Life," appears in a new online mythological journal called Immanence. It's written by a young African-American from south-central LA, Romeo Keyes, who I've been mentoring for the past year-and-a-half. He is a remarkable writer and knows more about myth than anyone I've ever met. He's a new and important voice of his generation. The article starts with an introduction the journal asked me to write.
Read my introduction and, more importantly, Romeo's piece itself here (or here in quick-loading, text-only format; while google caches it, see here), along with the full journal issue here.
— Dick Russell
8/25/2016
HITCHHIKING TO THE EDGE OF SANITY
This is the short trailer to a full-length documentary by filmmaker Scott Peterson that will be coming out sometime this fall. It's the story of a life-changing trip that would be impossible to make any more, much of it undertaken with my friend from Kansas, Steve Ewert (now a well-known portrait photographer in Chicago). A time capsule from 1970-71, when it was a very different world.
— Dick Russell
7/19/2016
GREAT WIN FOR THE WHALES
My friends with the Marine Mammal Project at the NRDC (Natural Resources Defense Council) have done it again! Whales and dolphins will be protected from the devastating impact of the Navy's underwater sonar blasts that's resulted in numerous strandings. This is a subject I've written about, and told at length in the terrific book, "War of the Whales," by Joshua Horwitz. More details about the decision and its implications can be found in their press release here and in this post from the Director of NRDC's Marine Mammal Protection Project, Michael Jasny.
— Dick Russell
7/13/2016
Horsemen of the Apocalypse: The Men Who Are Destroying the Planet--and How They Explain Themselves to Their Own Children
For some months I've been working on a book with Robert F. Kennedy, Jr., about climate change and the big energy moguls most responsible for the global disaster that we're all facing. It's scheduled for publication now in January 2017 by Hot Books, an imprint of Skyhorse Publishing. I hope you'll check out the link on Amazon. - Dick Russell
4/12/2016
My friend Homero Aridjis, Mexico's leading poet and environmentalist, has just published a frightening column about a new threat to the monarch butterflies. Please spread the word about this. - Dick Russell
Endangered Monarch Butterflies Face Their Greatest Threat High in the Hills of Central Mexico
by Homero Aridjis, The World Post, May 4, 2016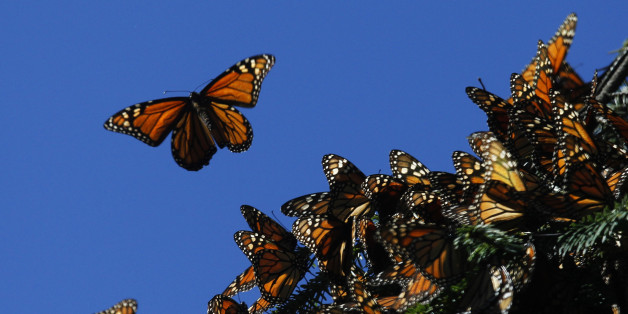 MEXICO CITY — The monarch butterfly is now facing a potentially lethal threat to its over-wintering habitat in Mexico's oyamel fir forests. ...
8/24/2015
I did this hour-long interview recently with Christina Pratt, the host of Why Shamanism Now?, a widely-heard program about various aspects of shamanism. We discussed my book "My Mysterious Son: A Life-Changing Passage Between Schizophrenia and Shamanism." We covered a lot of fascinating ground, and I hope you'll tune in; it airs Tuesday (tomorrow!), August 25, 2015 at 11am PST. See the description here (the usual summary of my book).
— Dick Russell
5/19/2015
Last week, I spent over an hour talking with host Bryan Alvarez for his After Dark radio show. We started off talking about the friendly gray whales, then the Kennedy assassination, and my new memoir, "My Mysterious Son: A Life-Changing Passage Between Schizophrenia and Shamanism." It aired on Saturday and is ready for listening here.
— Dick Russell
5/19/2015
Skyhorse Publishing Launches New Investigative Book Imprint
Hot Books will feature "fearless authors" on the most burning topics
I've recently gotten involved in working with my primary publisher, Tony Lyons, and my writer friend David Talbot in a new venture, one that I hope will have a major impact on exposing stories that have been ignored by the mainstream media. My first book, to be co-authored with Robert F. Kennedy, Jr., will focus on climate change. Here is the press release about "Hot Books"
— Dick Russell
Tony Lyons, president of Skyhorse Publishing, and David Talbot, the founder of Salon, announced a partnership today to launch Hot Books, a new Skyhorse book imprint that will publish investigative books on controversial issues. Skyhorse will be joining with Salon to create a co-branded digital platform for Hot Books.
Hot Books will seek to ignite national debate on the most urgent problems facing the country, filling the investigative gap left by newspapers and magazines as they cut their budgets for in-depth reporting. Hot Books will feature prominent authors, as well as up and coming literary voices – writers who are not only experts in their fields, but courageous when it comes to exploring the flammable subjects that much of the media avoids.
4/12/2015
Menhaden Talking Points: 2015 Quota and Ecosystem Management
Back in December 2012, I was among some 300 concerned citizens and fishermen who attended a meeting in Baltimore of the Atlantic States Marine Fisheries Council (ASMFC) calling for menhaden conservation. This little baitfish's precipitous decline had resulted in more starving and diseased striped bass in the Chesapeake Bay and along the Eastern seaboard. For the first time, the ASMFC established a coastwide catch limit and a 25 percent reduction in allowed landings of menhaden. As a result of that decision, it's estimated that more than 600 million menhaden have been left in the ocean. Now industrial fishing lobbyists are seeking significant increases to their 2015 quota, no matter the impact on the larger fish like striped bass that depend upon them for food. It's important we make our voices heard in advance of the meeting on April 28, by emailing Mike Waine at mwaine@asmfc.org. What follows are the latest "talking points" from the coastwide Menhaden Coalition.
— Dick Russell
On May 5, the Atlantic States Marine Fisheries Commission (ASFMC) will make pivotal votes about the 2015 Atlantic menhaden quota and could begin work to change future management, including conservation and allocation decisions. The ASMFC could increase the quota for this year with no understanding of the impact on predators like striped bass, or managers could adopt ecosystem goals and advance responsible management of this most important fish in the sea. Managers should not increase the 2015 quota for menhaden unless they leave enough in the ocean as food for predators. Current quota shortages should be addressed by reallocation or trading, not by sacrificing coastwide conservation.
4/12/2015
UPCOMING SPEAKING ENGAGEMENTS
On Wednesday April 29, I will be a featured speaker at the Los Angeles City College Book Program's spring seminar in East Hollywood. This year they will have a panel of speakers, from 12:30 to 2:30 pm, looking at human/animal connections and different ways of healing. Beginning with a dance performance that interprets bird flocking, one of the college's professors will speak on altered animal states and his experiences with shamans and healing. I've been asked to give a half-hour presentation based around my new book, "My Mysterious Son," focusing on the work of a West African shaman with my son, diagnosed with a severe mental illness.
On Saturday May 2, I'll be speaking from 9 AM to 12 Noon on my biography, "The Life and Ideas of James Hillman (Vol. 1)," at the C.G. Jung Institute in San Francisco. The program will be broadcast by the Asheville (N.C.) Jung Center, a webinar going out in real time so that people anywhere in the world with an internet connection may sign up and participate online. For details, please go to: http://ashevillejungcenter.org/webinars/
— Dick Russell
4/12/2015
Renowned Mexican poet, novelist and activist Homero Aridjis has just published his latest outraged expose about what is happening in his country. - Dick Russell
Not Even James Bond Can Rescue Mexico's Image
by Homero Aridjis, The World Post, Mar. 31, 2015
MEXICO CITY -- The news went viral on social networks, while the main print and electronic media trumpeted it on front pages and in prime time as a brilliant coup for bolstering Mexico's international image: James Bond, the super-macho, all-terrain star of the spy world, had descended on Mexico City for two weeks in the midst of staged Day of the Dead festivities.
The government hailed the filming of the opening sequence of "Spectre," which is primed to be the 26th Bond blockbuster, on locations in and around the Zocalo, the historical center of Aztec Tenochtitlan, in colonial Mexico City and the present-day capital. The set is a quick skip from the Great Temple, where, in pre-Hispanic times, high priests gouged out the hearts of victims stretched over a sacrificial stone and displayed the severed heads of war captives on a massive wooden skull rack that resembled an abacus.
The government of Mexico desperately seeks good publicity these days. The lengths it is willing to go for that were revealed by the website Tax Analysts in March, drawing on internal Sony documents hacked and made public by an unidentified organization possibly linked to the North Korean government: Mexican businessmen and officials offered Sony and MGM millions of dollars in in financial incentives and possible tax rebates to portray the country in a favorable light.
Among "elements needed to preserve the Mexican deal" listed in the leaked memo was the inclusion of a recognizable Mexican actress. Stephanie Sigman, star of "Miss Bala," a 2011 thriller about an aspiring beauty queen kidnapped by drug traffickers who is forced to work as a mule, was cast in a small part.
The irony of casting an actress whose image is so tied to the ongoing Mexican tragedy may be lost on international audiences, but not on Mexicans. According to a UN report, 63 percent of women in Mexico have suffered violence at the hands of men. Femicides are on the rise with six women murdered every day, according to the National Citizen Femicide Observatory. Among Latin American nations, Mexico leads in the number of disappeared women forced into sexual slavery.
The government's requirement to film at least four minutes of the film in Mexico City was satisfied by the opening scene, with Bond "taking off into the Mexican skyline" in a helicopter. The portrayal of Mexican police was to be favorable, according to the hacked documents -- the opposite of the reality exposed by President Enrique Peña Nieto himself when he called for disbanding police forces possibly infiltrated by organized crime in 1,800 municipalities throughout Mexico, beginning in Guerrero, Jalisco, Michoacán and Tamaulipas, states that lead the country in extreme violence.
Why should projecting a distorted and unrealistic image of Mexico in a Bond film matter so much to officials in a country where everyone knows the reality: that this is a country where 43 rural teacher's college students disappeared half a year ago, into a vast archipelago of the dead, where myriad clandestine graves yield remains that are never identified?...
3/25/2015

Here is the link to my hour-long interview with John Barbour, former host of TV's "Real People" among much else, for the BBS Radio internet network. - Dick Russell

John Barbours World
Below is John's introduction, as posted on his Facebook page:
This is Monday's show with Dick Russell. It is really good. A funny opening, a great interview with Dick who talks about his book 'My Mysterious Son,' a fascinating, informative journey through the disturbed mind of a schizophrenic child, the caring heart of a father, from American psychiatrists to African Medicine Men. Even the technical screwups are fabulous! Enjoy!
3/25/2015
How a West African shaman helped my schizophrenic son in a way Western medicine couldn't
3/22/2015
In the latest issue of "Sacred Hoop," a magazine published in England and devoted to shamanism, I have published a piece based around my new book, "My Mysterious Son." - Dick Russell
About eighty miles northwest of where I live, in West Hollywood, California, inside a white stucco house in the valley town of Ojai, I sit facing Malidoma Patrice Somé, a renowned shaman from West Africa.
A white cloth, containing a circle at the centre, occupies a small table between us. Around the perimeter of the circle, and also used to divide it into quadrants, are five coloured stripes of black, blue, green, red and white. Within the circle rest a number of objects – many cowrie shells, stones both precious and plain, coins from various countries, a ring, and a key.
I have come to Malidoma for a divination, not for myself but on behalf of my 35-year-old son, who was diagnosed in his late teens with a severe mental illness: 'probable schizophrenia.'
Malidoma asks that I use my primary hand to spread the shells and other objects, clockwise within the circle, and he'll tell me when to stop. After about ten seconds, he does so, and peers intently at the pattern that has formed.

Malidoma's divination cloth set up for Frank and his father
Then Malidoma says: "The way this pattern is laid out, it is like a mirror of other-worldly scenarios. Almost like two magnets, each pulling the other, and your son is in the middle of that.
"Your job with him is to hold the space... basically the humanisation of the clinical labelling of him as psychotic, schizophrenic, which is a reflection of a profound misunderstanding. Because the structure of the world afforded by people like him has not been studied sufficiently, it's not a fair approach to look at him as sick. That frequencies of this nature are not allowed - this is really a major discrimination."

Schizophrenia remains as mysterious today as it has been throughout human history...
3/19/2015
The syndicated web magazine, Zocalo Public Square, has just published this piece I wrote for them, based around my recently-published memoir, "My Mysterious Son." - Dick Russell
The Shaman Who Transformed My Schizophrenic Son
After a Decade Cycling Through Hospitals and Drugs,
a Trip to Africa and a Foray into Tribal Medicine Gave Our Family Hope
At the age of 17, after a wonderful summer of fishing and learning to surf, my son, then in his junior year at a Boston high school, told me one afternoon, "I don't know what's happening, I can't find my old self again." Shortly thereafter, Franklin had to be hospitalized. The evaluation described an "increase in psychotic symptoms, including paranoid thoughts, command hallucinations telling him to hurt himself." These things were "associated with the onset of schizophrenia."
Thinking LA-logo-smallerThat was the autumn of 1996. For many years afterward, my son was on and off "the meds" and in and out of hospitals. The drugs lessened symptoms like hallucinations and illogical or paranoid thoughts, but their side effects caused him to gain almost 100 pounds and be diagnosed with adult-onset diabetes. Only as Frank entered his early 30s did our shared desperation take us beyond the medical treatment model, onto a path we could never have anticipated.
A profound ignorance still exists as to the molecular mechanisms behind schizophrenia. Despite theories ranging from genetic inheritance to environmental exposure, scientists cannot specify the reasons why 2.2 million Americans suffer from the mental illness. Some have suggested there is more to this puzzle than Western medicine realizes. In 2012, Canadian evolutionary psychiatrist Dr. Joseph Polimeni published a book called Shamans Among Us, postulating that schizophrenics are a "modern manifestation of prehistoric tribal shamans." The South African healer Colin Campbell has written: "People hearing voices for instance or feeling certain things are in touch with other realities, especially the whole mythic realm, that Western society does not have a time or place for."
This spoke to me because, amid what appeared to be delusional ramblings, Franklin was uncannily able to tune in to what I was thinking. On the advice of a psychologist friend, I'd stopped trying to correct his often bizarre ideas. This had led us to a much less antagonistic and more trusting relationship. Still, I had little hope that Frank would ever lead anything close to a "normal" life.
Then, early in 2012, I took a chance. Our family pediatrician—who had grown up in East Africa in the 1940s—invited Franklin and me to come along on his annual return trip to witness the wildlife migration across the Serengeti Plain. Frank is biracial, and this seemed a unique opportunity for him to see the continent his mother's ancestors came from—and for us to forge a stronger father-son bond.
Our trip was not without its difficulties. One night, Frank temporarily disappeared at a campground deep in the bush. But ultimately the journey proved a breakthrough not only between us, but also for my son's self-confidence—slowly but surely shattered over the years of struggling with illness.
Part of the trip's impact was surely that we were spending days and nights amidst the wonder of the East African wildlife and landscape. It also helped that our guide, a Maasai the same age as Frank, related to him without any sense of his being "different."
Nine months after our return to the U.S., I sought out Malidoma Somé, a renowned West African shaman. In the culture of his Dagara people, schizophrenics are not viewed pathologically, but often as mediums bringing messages to the community from the spirit world. As an Anglo American male in my mid-60s, I never expected to be conducting spiritual water rituals at the ocean and invoking the assistance of my ancestors on my son's behalf. But that's just what I did before taking Frank to see Malidoma in Jamaica, for a divination about his future using cowrie shells, beads, stones and other objects. Frank also did drawings for the shaman during their hour together, which Malidoma described as like "being with a colleague."
Since meeting Malidoma, Frank has continued to create symbolic paintings in the course of speaking with the shaman over the phone. At Malidoma's impetus, Frank and I traveled together to the Native American "sacred lands" of New Mexico. Over the past few years, Frank's mother and I have kept seeking connection with our ancestors through meditative rituals, which has made a difference in our own lives as well.
These experiences, rather than taking Frank further "out there," have had a grounding effect. He is not "cured"—he still takes medication and resides in a group home—but the weight gain and diabetes have disappeared. Only a short time ago, he rarely emerged from his room. Today, Frank's life is filled with activity and enthusiasm. Now turning 36, he has gone back to a technical school to resume a course in mechanical engineering; has taken classes in gymnastics, boxing, and skating as well as ongoing music and art therapy; has traveled to Maine for two weeks on his own to learn to build wooden boats; and has been working out regularly at a gym. He still writes pages of glyph-like characters with no readily apparent meaning, at least to those of us in this realm. He still speaks of a vast imaginative terrain that he's covered and continues to traverse. And he is still possessed of a remarkable ability to "tune in" to the thought patterns of other people, including me.
In a time when more stereotypes and stigma are attached to mental illness than ever—and when the pharmaceutical industry dominates the attitude of Western medicine—more attention should be paid to several studies by the World Health Organization comparing schizophrenia outcomes in the U.S. and Europe, with poorer nations like Nigeria and India where only 16 percent of patients regularly take antipsychotic medications. In one study, nearly two-thirds of patients diagnosed with schizophrenia in developing countries had good outcomes after two years, compared to only 37 percent in wealthier nations where drugs are the standard of care.
It may be too late for Frank ever to leave medication behind him. But I am deeply grateful for the progress that discovering alternatives has brought. I'm happy, too, that Frank knows not only that I'm proud of him, but also that I hold deep respect for all that he's been through and who he is.
In his journal, Franklin writes: "What is behind a situation is a mystery. We are left searching for reasons that things are the way they are … Clarity and cloudy times come and leave. Points are made and life proceeds."
— Dick Russell
2/17/2015
Is Big Pharma the Only Answer to Schizophrenia?
2/13/2015
My interview with Jesse Ventura for his weekly Podcast is up now for listening:
It's no question mental illnesses are marginalized in this country. The drug cocktails often prescribed leave many with suspicious side effects. When author Dick Russell pursued treatments for his schizophrenic son Franklin, he happened upon shamanism, a radical alternative to modern psychiatry. Russell shares with the Governor his deeply personal experiences with shamanism -- and shows how far a father will go to save his son's life. This is one conversation not to be missed.
Go to www.ora.tv/wethepeople and the Podcast "Could a shaman save your life?" We cover not only elements of "My Mysterious Son," but current controversies on the environment and vaccines. --Dick Russell